Utica Post 229 honored its Firefighter of the Year and EMT of the Year at the December membership meeting.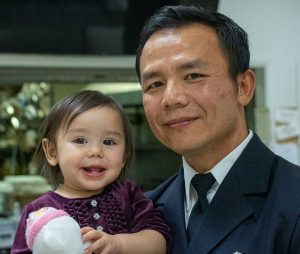 Ehser Kanyaw is Firefighter of the Year and Luke DelGrego is EMT of the Year. Both are members of the Utica Fire Department.
The honorees and their families and officials from Utica Fire Department were guests at the 6:30 p.m. dinner on Thursday, Dec. 1. The awards ceremony immediately followed dinner, with
Utica Mayor Rob Palmieri and Assistant Chief Jim Noon joining Post Commander Larry Weibel and Law-and-Order Chair Paul Wojcik in presenting the awards.
A paramedic since 2015, DelGrego works out of "one of the busiest" firehouses in the city, and "he does it with a smile," Assistant Chief Noon said. "He provides the best care possible for people."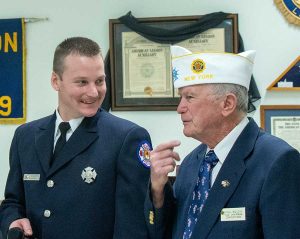 When asked if he would like to say something, DelGrego spoke just a few words, which prompted Mayor Palmieri to quip: "You may not be able to speak, but you're able to save lives!"
Assistant Chief Noon pointed to Kanyaw's impact and value, noting: "He comes to work every day with a smile on his face. His work ethic is second to none. We could use a hundred others like him.
Addressing the firefighter directly, the mayor added: "You give 100 percent all the time… trying to help others, to build bridges."
Both Weibel and Wojcik said they were pleased to be able to show the Post's gratitude to first responders again after a two-year haitus due to COVID concerns.