Lucy Burgard of Lee Center made history on June 12, becoming the first woman to lead the Oneida County American Legion in the organization's 102-year history.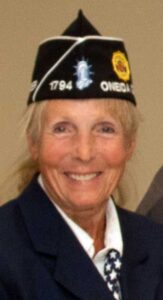 Commander Burgard was elected and installed during the Legion's County Convention, held at Utica Post 229 in North Utica, home post to outgoing County Commander Jim George. The convention drew delegates from American Legion Posts across Oneida County.
A 24-year member of The American Legion, Burgard is past commander of Lee Legion Post 1794. She has served in a variety of positions on the post and county levels. Her charitable project for her year as county commander is to support the military rehab program at Sitrin Health Care in Utica.
She herself has an extensive military career. After growing up on a farm near York, Pennsylvania, Lucy joined the Air Force at age 18. She served 33 years in 14 countries in transportation and supply before retiring as a senior master sergeant (E-8). Then she continued working for the Air Force as a civilian employee at the former Griffiss Air Force Base in Rome. Among other things, she helped install security sensors and cameras at military installations in the U.S. and in Sicily.
Lucy likes to challenge herself — she ran the 15K Boilermaker Road Race 16 times.
Burgard is a graduate of Community College of the Air Force, Mohawk Valley Community College in Utica, SUNYIT in Marcy (now SUNY Poly) with a bachelor's in engineering, and Regis University in Colorado with a master's in business management.